What you will find here:
---
What is Newsletter Marketing?
Newsletters are a vital marketing tool for most companies, from SMEs to large corporations. They allow companies to regularly send information to a specific group of recipients (subscribers) by email. Some newsletters are sales-oriented and contain promotions and product developments, while others are a modern form of customer magazine – one that is much more cost-effective and can appear at shorter intervals than conventional publications.
Newsletter marketing is a subset of email marketing. Email marketing includes all marketing measures via email, such as automated emails, transaction emails, trigger emails, service emails and notification emails.
Unfortunately, newsletters are often neglected as a marketing tool. Especially in the B2C area, they are used almost exclusively as sales emails with product offers. This fails to harness the great potential newsletters have to offer: customers can be kept up to date quickly and easily, relationships with inactive contacts nurtured and interest in a company's other products or services piqued (cross selling). Well-made newsletters can create the basis of a trusting relationship between a company and its potential clients and open the door to future sales.
Check out our whitepaper "How marketing-newsletters work & what makes them successful" to find out more about the key success factors of a newsletter, as well as common mistakes that should be avoided.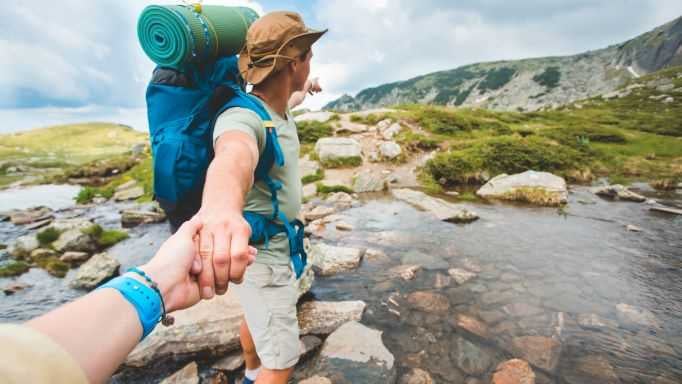 What Are the Advantages of Newsletter Marketing in the Content Marketing Mix?
Newsletters are a cost-effective way to regularly inform customers and interested parties about a company. Sending content by mail is much more complex, expensive and also worse for the environment.
By using newsletters you can efficiently distribute your own content, generating valuable access to your website or blog and improving your Google ranking (SEO). Newsletters also allow you to send your customers information from your suppliers or manufacturers, improving your relationship with both clients and providers.
By clustering your audience, you can create targeted newsletters that engage the reader and promote more interaction.
When you send your content via newsletter, you are able to reach a much larger target audience than via social media, since content on social media must be actively consumed and therefore not all of your content is necessarily displayed to every intended recipient (unless you are just starting out or have a very small list of subscribers.) This is demonstrated by the great key performance indicators of our customers' newsletters as well as by the average opening and click rates determined by the German service provider Inxmail: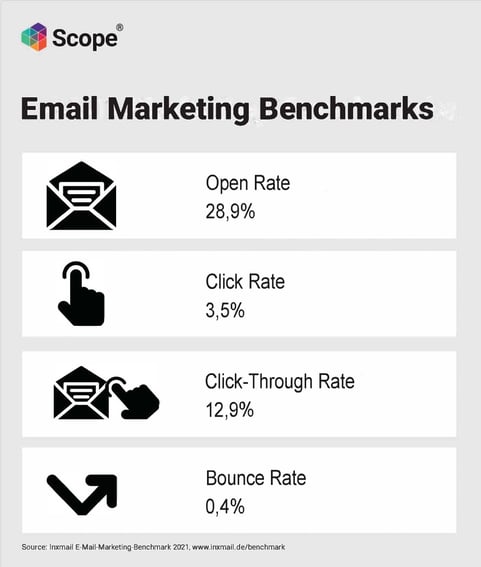 According to Inxmail, B2B newsletters have an average click rate of 3.7%, while newsletters in the B2C area have an average of 3.4%. Achieving such rates on social media or Google – let alone surpassing them – is difficult. This applies to paid advertising (e.g. Facebook marketing or Google Ads) and even more so to natural reach. According to the company Wordstream, the average click-through rate for Facebook ads is 0.9%, 3.17% for Google Search and 0.46% for Google Ads. Of course, these numbers aren't directly comparable, since the channels pursue different goals, but they are a good indicator of the effectiveness of email marketing.
While newsletters are optimal for providing existing contacts with information, Facebook & Co. are primarily used to gain new leads. The comparison of the values ​​shows why opening rates of less than 25% and click rates of less than 5% are considered good.
Nevertheless, newsletters cannot replace the operation of a Facebook page or the placement of Google Ads. It is important to define individual goals for the channels used, which contribute to overarching corporate goals in an effective marketing mix.
The click-through rate shows how relevant the newsletter content is to its recipients: it indicates the percentage of viewers who click a link compared to those who open the newsletter.
---
Would you like to read this guide conveniently as a PDF?
Would you like to read this guide later or keep it?

No problem: Download the guide here as a PDF file.


---
Why B2B Companies Should Market via Newsletters
Newsletters offer B2B companies the opportunity to remain in regular contact and start a structured dialogue with their customers and leads. They also allow them to demonstrate their competence by updating B2B contacts with cutting-edge industry knowledge and thereby offering free further training. This helps customers build trust and recommend companies to others.
In addition, newsletter marketing offers the following advantages for companies in the B2B sector:
Upselling

: Show your customers the advantages of additional services.

Cross-selling

: Present your existing customers with additional products or services that might be of interest to them, growing your business.

Lead nurturing

: Increase brand awareness and help prospects feel heard.

Long sales processes

: Guide leads through their journey until they are ready to buy.

Trust building

: Communicate specialist know-how and thus lay the foundation of a relationship based on trust.

Customer loyalty

: Offer your customers added value by communicating current knowledge and industry-relevant news. Turn your customers into your fans.
As you may have already noticed, in the case of B2B newsletters, conveying industry know-how is particularly important. Therefore, focus on creating relevant content and collaborate with your specialists. This is time-consuming, but worth it.
Extra tip: Look for valuable content in industry publications or articles about your industry from daily media and add this content to your newsletter, piquing readers' interest and adding value to their experience. The media can illuminate topics from an objective position and demonstrate their importance and relevance. More on this in the chapter "Newsletters with Curated Content."
The Advantages of Newsletter Marketing for B2C Companies
In the B2C area, you may have mailing lists that would make any B2B marketer green with envy. However, their opening and click rates are usually lower than in the B2B area. Nonetheless, you are generally able to generate more access to your articles through a newsletter than via social media.
Newsletter marketing offers B2C companies the following advantages:
Low costs

: Use email marketing as arguably the cheapest and most efficient channel to boost your sales.

Low wastage

: Reach potential buyers who have already come into contact with your brand.

Increased traffic

: Bring valuable traffic to your website and online store, generating a particularly high conversion rate.
Promotions:

Grab

your readers' attention with current promotions and interesting articles.

Personalized content

: Use data on your customer's purchasing history to send them personalized newsletters tailored to their interests and needs.

Positioning

: Position yourself as a visionary in your field.

Customer loyalty

: Strengthen your relationship with your customers with regular and well-crafted newsletters, turning your customers into your fans.
Harness the opportunity and create a newsletter that offers your readers real added value. Instead of simply sending out a sales newsletter, report on your specialist area, make your customers aware of current topics (e.g. seasonal or current events and developments) and give them personalized tips.
Extra tip: Search for suitable articles in daily publications or special interest media in your area and link to them in your newsletter. Daily papers have a lot of credibility due to their neutrality. Take advantage of this and refer to media articles about your topic of interest, demonstrating its relevance. More on this in the chapter "Newsletters with Curated Content."

GDPR / DSGVO: The Legal Conditions in Newsletter Marketing
Legislation regarding newsletter marketing primarily concerns the storage of customer data and the process of subscribing and unsubscribing from newsletters. The General Data Protection Regulation governs the processing of personal data in the European Union. It applies to Swiss companies insofar as they communicate with people from the EU (which is the case for almost every website, or at least cannot be ruled out). In concrete terms, regarding newsletters, this means that:
Newsletter senders must (on request) be able to prove which customer data is stored for what purpose and where and whether it is passed on.

Recipients must actively agree to receive a newsletter (keyword: double opt-in) and be able to unsubscribe at any time. In addition, the data protection declaration of the company must be accessible.

The sender is responsible for the security of customer data and should only work with trustworthy providers. It is advantageous if the address data is stored in an EU country.

If you unsubscribe, all data concerning the corresponding user should be deleted, unless it is legally required to be retained.
Be professional and fair! Don't intentionally make it difficult to unsubscribe. As a fellow newsletter recipient you should be able to judge what you consider good-practice when subscribing or unsubscribing from a newsletter and when you feel "ripped off."
---
Would you like to read this guide conveniently as a PDF?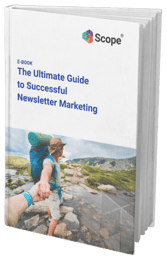 Newsletter Marketing with Strategy:
The Following 9 Points Should be Included in Your Newsletter Concept
Behind every successful newsletter lies a clear concept. We have put together a checklist to help you create a compelling newsletter. When designing your concept, you should consider the following 9 points: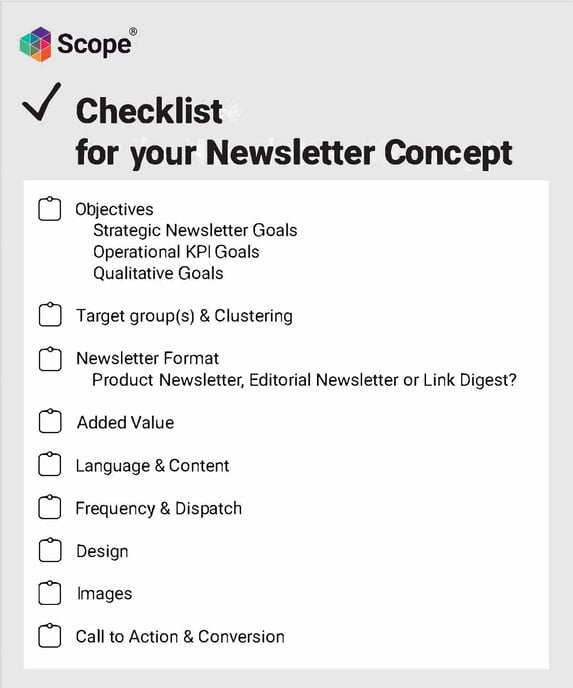 Objectives
Define goals for your newsletter on three levels:
1. Strategic newsletter goals
2. Operational KPI goals
3. Qualitative goals

The strategic goals of email marketing should be considered in the context of the company and derived from overarching company goals. Among other things, they should reflect how and to what extent the email marketing measures should contribute to the company's success.
Hard numbers like click-through and unsubscribe rates are easier to compare from one newsletter to the next. This allows conclusions to be drawn and improvements implemented.

The quality of a newsletter can ensure significantly better click rates in the medium to long term. Advertising newsletters in particular are clicked through much less frequently than service-oriented emails that have a higher utility. Even though quality cannot be measured objectively, it is just as important as click-through rates.
Target Group(s) & Clustering
Who should receive your newsletter? Can these people be clustered into different groups (e.g. according to B2C/B2B, customer/potential customer, industry, product type, personality or gender)? It used to be enough to send a single newsletter to all customers, but today more and more companies are clustering recipients and creating targeted newsletters. Recipients can usually be allocated into three to five target groups so that each recipient feels personally addressed; a completely individualized approach is not usually necessary. And by using the right tools, the effort to create targeted newsletters is only minimally higher.
Please note that you need the consent of your recipients to send them newsletters (more on this under GDPR / DSGVO: The legal conditions in newsletter marketing).
Newsletter Format
Basically any type of information can be sent by email and thus as a newsletter. However, most newsletters can be classified into one of three types:
Product newsletter: Product newsletters are sales-driven newsletters that advertise a company's products or services. These newsletters are useful to companies that want to draw attention to current products or promotions, for example online shops. For most other senders however, especially if they offer services, product newsletters are of little use, because they usually do not provide the recipient with much utility and they therefore quickly unsubscribe.
Editorial newsletter: This type of newsletter discusses different topics or expresses opinions thereon. The entirety of the text is thereby usually within the newsletter itself. Further links can accompany the text, but only provide more detailed information or references. Examples include the "Quartz Weekly Obsession" or "The Pioneer Briefing." These newsletters are effective if your objective is to be a leading voice in your field or boost your image, but less suitable for conversion, as they encourage few clicks.
Link digest: The link digest is the classic newsletter format. An optional short introduction in an editorial is followed by article tasters, consisting of a title, image, text and link ("more info here" or "continue reading"). Link digests encourage recipients to click by piquing the reader's interest with compelling content while not divulging too much information in the newsletter itself. So if your goal is clicks, conversion or lead generation, the link digest is the right choice.
There are of course other newsletter formats, but most are hybrids of the aforementioned and fall somewhere within the three categories.
Extra tip: People generally prefer to communicate with people than with companies. The newsletter will be better received if it comes from a person and not an anonymous marketing department. Add a photo and a person's name (e.g. the owner, CEO or a specialist) to the editorial and also use a personal email address (i.e. not newsletter@, marketing@ or the very impersonal noreply@).
Added Value
Studies show that purely promotional newsletters that focus on sales tend to have poor opening rates. Instead, offer your readers high utility value and thus create a trusting basis for better long-term sales relationships.
Useful newsletters...
…

impart knowledge

. As an expert in your field, you can clarify complex connections and elucidate background information, helping interested readers gain more knowledge.

...

inspire and explain

. People who illuminate topics and help others gain insight inspire and stimulate new ideas. Talking about your own experiences and admitting when things did and didn't work out as planned increases credibility.

...

save time

. Save recipients the time and effort of having to research a specific topic themselves and regularly serve up the best links on a silver platter.
Define how you want to add value. Here are a few ideas:
Have an industry expert regularly explain a topic in detail

Include a workday tip (B2B) or a recommendation for a recreational activity or recipe etc. (B2C)

Provide a few links to interesting external articles on your topic (more on this under

"

Newsletters with Curated Content

"

).






Language & C

ontent
In order to be interesting and convincing, you don't need linguistic brilliance, but at least error-free language and a pleasant and understandable style. Otherwise opening rates will decrease and readers will unsubscribe.
In addition, choose an overarching theme or topic to which the newsletter is regularly devoted. This helps to build a strong recipient list and also serves to ensure a consistently good opening rate. If recipients know what to expect and in what time-frame, opening the newsletter may become a habit (keywords: expectation management and forming habits).
Frequency & Dispatch
Two points are important when choosing the frequency and send time of newsletters:
Regular dispatch: The available resources and goal of a newsletter determine its dispatch frequency. The more often a newsletter is to be sent, the more effort must be invested. But at the same time, the less frequently a newsletter is sent, the less useful it becomes. It is important to find a balance that suits both the sender and recipient. Most B2B companies send out newsletters bi-weekly or monthly, depending on the topic. With B2C providers, there are much larger variations, ranging from daily to quarterly (four times a year). In any case, it is essential to maintain the same frequency (keyword: building habits).
Constant dispatch time: It is impossible to say in general terms what the ideal dispatch time for a newsletter is. This depends on its objective, target group and other individual factors (such as start time of promotions). The exact day and time of dispatch are less important than it is to stick to the chosen time as meticulously as possible. If you send out a B2B newsletter during office hours, your CTR will increase, as click rates are higher on desktop than on mobile devices.
Design

The template, i.e. the technical structure of a newsletter, consists of the following three elements:
Header: The header contains the sender's logo. Elements such as a menu, image or the title of the newsletter may be added.

Extra tip: If you are creating a group-specific newsletter, use an image in the header that appeals to the sub-group addressed, for example an image from the relevant industry, possibly even a regional image.
Main body: While the header and footer are usually static, i.e. remain the same in every dispatch, the main body, which consists of the actual content of the newsletter, changes each time.
Footer: The footer contains information about the sender, i.e. the company name, address and contact information. In addition, an unsubscribe link is required. Adding a link titled "manage profile settings" for example is not sufficient. Tricks like matching the font color of the unsubscribe link to the background is also not recommended. Certain email clients classify these messages as spam and they can also upset your recipients.
When creating your newsletter template, make sure that the display is mobile-friendly (keyword responsiveness) and that it looks good on the email clients most commonly used by your recipients (Outlook, Gmail, iOS, Android, etc.). Error-riddled formatting inevitably increases the unsubscribe rate.
Extra tip: Check whether your newsletter tool has a function to test the mobile view and the output in different email clients. If not, the service www.testi.at for example offers these functions.
Images
Try to use uniform images. You can work with stock images, but always select them according to a fixed pattern (e.g. only graphics, sharp/blurred, a single color palette etc.), or edit them accordingly (e.g. all black and white). This increases the recognition of your content beyond your newsletter on your website and social media.
Call to Action & Conversion
Would you like to generate leads with your newsletter? Then think about what you offer on your landing page to encourage registration. Is there an additional whitepaper you can offer? Or is there a product in your online shop for the problem explained in the article? Then link them accordingly.
Extra tip: Don't just add a link to the article at the end of the teaser text, also link the image and the title of the teaser.

Newsletters with Curated Content
Many newsletter marketers believe that all newsletter content must be self-produced. This makes newsletters creation time-consuming and expensive. Companies are often forced to reduce the frequency in which newsletters are sent and creating different target-specific newsletters becomes impossible.
Instead, carefully curating content from daily or special interest media allows companies to gather a thoughtful selection of articles and provide helpful background information and context. For example:
... Garden centers could send out the best tips and tricks on topics like urban gardening, landscaping or growing indoor plants, that were previously published in newspapers, magazines or blogs.

... Insurance providers could update readers with articles on pension plans, insurance costs and upcoming law reforms, including official sources and links from authorities or state institutions.

... Travel providers could put together insider tips for popular travel destinations from travel blogs or social media.

… Companies from any industry could find and select suitable articles for their target groups on the web.
Thanks to curated content, companies can communicate more efficiently and economically and address their target groups in a more personal and individualized way.
For example, a target group-specific newsletter could be structured as follows:
Header image stemming from the industry sector or sub-sector of the reader (e.g. trades: painters, carpenters, electricians)

Editorial also tailored to the industry

Own article (potentially identical for all target groups)

Reference to an upcoming webinar, conference or event

Recommended reading (curated articles from the relevant industry)
Top 10 Newsletters with Curated Content
The following examples show some well-known brands that have been highly successful in their curated newsletter campaigns:
POLITICO Playbook: The best political newsletter stems from the US newspaper company POLITICO, which is now owned by Axel Springer. It provides a professional, journalistic summary of Washington's political events with links to other US media. The premium newsletter "Politico Pro" is aimed at companies, NGOs and authorities and is sent to around 45,000 subscribers who pay a whopping 7,000 dollars a year for it.
theSkim

m

:

Aimed at young women, theSkimm provides its more than one million subscribers the content they need to get their day off to a good start. The newsletter offers great curated links tailored to their target group, perfect to "skim" over with a morning cup of coffee.
Finimize: Thanks to Finimize, 400,000 recipients receive a curated, English-language overview of financial markets and stock exchanges around the world. Well-designed and varied, it shows that despite the technical limitations, not all newsletters have to look the same.
Quartz Weekly Obsession

:

As the mother of all curated newsletters, Quartz Weekly Obsession is surprising and varied, lovingly designed and written and even contains interactive elements that are unusual for newsletters. Launched in 2012 as a spin-off of the US magazine The Atlantic, Quartz is specifically aimed at digital natives. While it used to be delivered daily, the newsletter now appears every Wednesday.
MIT Technology Review

:

The renowned magazine of the Massachusetts Institute of Technology offers a total of six newsletters. Of these, "The Download" offers the world's best overview of what you need to know in the field of science and technology.
ICT Ticker

:

ICT Ticker is an ICT media digest updated on a daily basis. Launched in 2009, it was originally designed to accompany an ICT trade fair, which no longer exists. The newsletter however, remains quite popular in German-speaking Switzerland, where Scope is based.
Find out how Scope can help you discover the right content and effectively communicate it to your readers in the chapter "Upgrading your newsletter."
---
Would you like to read this guide conveniently as a PDF?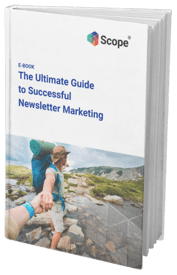 Newsletter Analytics
What good is a beautifully designed newsletter with eloquently worded text if it does not appeal to its target audience and goes unread? That's why it's important to set yourself KPI goals and check your achievements after sending each dispatch.
KPI – The Key Figures in Email Marketing
In the chapter "Newsletter Marketing with Strategy" we mentioned that it makes sense to define goals for your newsletter on three levels.
Here, we explain the classic newsletter KPIs that are ideal for operational objectives.
Attention: More and more privacy protection initiatives by Apple, Mozilla (Firefox) and others are jeopardizing the reliable collection of data surrounding click and open rates. For example, Apple Mail Privacy Protection distorts the open rate because all emails received by an Apple Mail app (whose recipients have subscribed to and activated the service) are pre-opened by Apple. Certain softwares open all links in incoming emails in advance and check the linked pages for malicious code before they land in the recipient's inbox. The click rate therefore appears to increase, but the numbers are distorted. This topic is currently changing very dynamically.
Open Rate
The open rate describes the number of emails opened in relation to the number of emails delivered. For example, if 100 emails are delivered and 10 of them are opened, the open rate is 10%.
The unique open rate refers to the number of times an email is opened by individual recipients. If a person opens an email multiple times, it is only counted once. The unique open rate is the lower number, but the most relevant newsletter KPI for quantifying your reached target audience.
Click Rate
The click rate shows how actively your newsletter was consumed. It indicates the percentage of people who clicked on a link in your newsletter in relation to all people who received the newsletter.
The unique click rate describes the number of recipients who clicked on a link in your newsletter. People who clicked on multiple links are only counted once. As with the unique open rate, the unique click rate is the more meaningful newsletter KPI to analyze the interaction with your email.
In the B2B sector it makes sense to analyze the people with the most clicks to see who your fans are. If they are already customers, they might be good candidates for a success story to post on your website or blog, or you could occasionally ask them for qualitative feedback on your newsletter or product. And if these fans aren't customers yet, it's probably worth targeting them with a special sales effort.
Click-Through Rate (CTR)
Unlike click rate, click-through rate (CTR) is calculated in relation to the number of emails opened (rather than the number of emails received). For example, if 100 emails are sent, 10 are opened and one or more links are clicked in a single email, the CTR is 10%. The click rate on the other hand is 1%. Because of the similar terminology, in some statistics it is not immediately clear whether the click or click-through rate is being reported on. So be careful not to compare apples with oranges.
Unsubscribe Rate
The unsubscribe rate refers to the number of recipients who have actively unsubscribed from an email list. If two of 100 users unsubscribe, the unsubscribe rate is 2%.
Unsubscribe rates vary greatly depending on how your mailing list came about. If users are forced to subscribe to a newsletter when ordering online (e.g. by setting the default in a checkbox to "Newsletter: Yes"), the unsubscribe rate will naturally increase. But even with an unsubscribe rate of more than 0.35%, your email integrity will suffer and some mail servers will classify your newsletter as spam in the future. If the value is higher, you may not have included a double opt-in – or your newsletter concept needs to be revised.
Bounce Rate
The bounce rate shows the number of emails that could not be delivered in relation to the number of emails that were sent. The number of messages sent minus all bounces equals the number of emails delivered. A distinction is made between hard bounce and soft bounce as well as spam. Keep reading for more information on the three terms.
Hard Bounces
Messages that permanently cannot be delivered are called hard bounces. They are measured in relation to the number of messages sent and are given as a percentage. Hard bounces usually occur because of invalid or deleted email addresses, or because of messages being blocked by the recipient's mail server, though this is more seldom the case. Most hard bounces with business email addresses are due the recipient having left the company. Make sure to look through the list of hard bounces after each dispatch and remove invalid addresses from the mailing list; if your percentage of bounces is too high, your address might be classified as a spam sender and blocked.
If necessary, you can check social networking sites to see whether a person can be reached at a new address or a new company.
Soft Bounces
Soft bounces are emails that temporarily cannot be delivered. Reasons for this include a full mailbox, an email server that is temporarily down, emails that are too large or blockage due to inadmissible content. Some email programs try to deliver soft bounces a few more times, ideally solving the problem by itself. However, you should keep an eye on soft bounces because after a certain number of failed attempts, they are marked as hard bounces. If, for example, the error message "mailbox full" keeps coming up, which indicates an email address that is no longer used, the address should be deleted from the mailing list.
Spam
Many email providers such as Gmail or Outlook offer users the option to manually mark emails as spam. The consequences of this depend heavily on the provider. A local "learning effect" that only affects the recipient is largely harmless, in that the sender is blocked and their messages to this individual are filtered out in the future. However, if the email software uses spam messages to crowdsource information on spammers in order to identify and block them, this can have drastic consequences for the sender, completely blocking future emails to individuals or even to all addresses with this service provider. The sender's own provider also counts the sender's spam messages and may undertake measures against the sender, meaning that spam messages should be closely monitored and always taken seriously.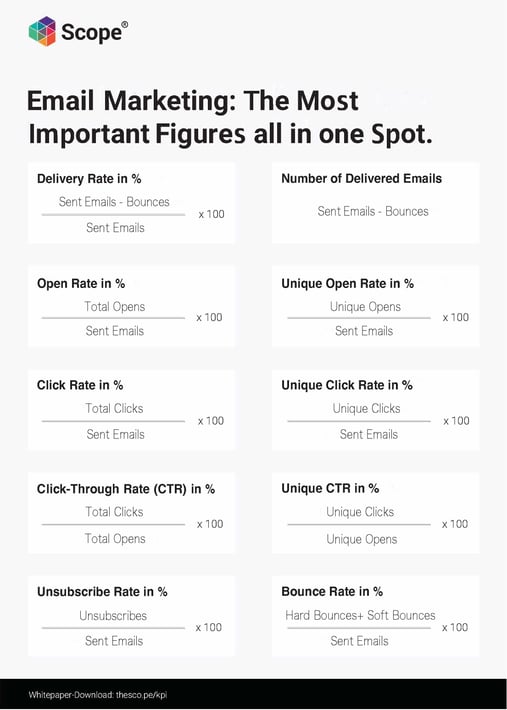 Newsletter Tools – Which Maling System Does What?
There are hundreds of providers for sending newsletters. Here are our favorites:
Mailchimp: Mailchimp is the largest and most well-known provider. You can send up to 10,000 emails to up to 2,000 contacts per month for free; if you need more, the licence costs at least $10 per month. As an American provider, Mailchimp is not, strictly speaking, GDPR compatible, since the servers (and hence the data storage) are located in the USA. Nonetheless, the system is easy to use, the processes are documented in detail, there are many interfaces to other systems, and above all: almost every email marketer has worked with Mailchimp before.
Sendinblue: The free version of Sendinblue allows users to send up to 300 emails per day. The lite (around CHF 20 per month) and premium license (around CHF 50 per month), with which 10,000 or 20,000 emails can be sent per month, quickly become necessary though. The number of contacts is unlimited with all packages. The software is GDPR compliant thanks to the German server location, TÜV test report and contracts regarding data processing.
HubSpot: The inbound marketing giant HubSpot enables you not only to send newsletters, but also to automate your marketing process, create a website, landing pages and blogs and to map your sales process. At the heart of the software lies the CRM (Customer Relationship Management) system, in which all information about leads is collected. The license for this SaaS solution costs an amount correspondingly expensive to its large range of functions.
Salesforce: This leading CRM system also offers options for sending newsletters professionally. Salesforce is already being used in many areas and the marketing automation softwares Salesforce Marketing Cloud or Pardot can be booked. These have a huge range of functions for digitizing marketing processes.
Unsubscribing from Newsletters – What Happens if Someone no Longer Wants Your Newsletter?
You are legally obliged to place a direct unsubscribe link in the footer of your newsletter. Ideally, you should offer "unsubscribe" and "manage settings" so that the recipient can choose whether they no longer want any information or whether they only want to receive invitations to events and product news for example.
Make these cancellations immediately – if they are not already automated – and, naturally, do not send the unsubscriber any more newsletters.

The Ideal Time to Send a Newsletter
Despite common misconceptions, there is no such thing as the perfect time to send a newsletter – and if there were, everyone would send their newsletter at that time, so the time slot would no longer be optimal. The best time to send your newsletter depends on your objective, target group and other individual factors such as the embedding in a sales campaign.
However, the time at which a newsletter is sent can be a determining factor for its opening and click rate. It is therefore worth investing some effort and trying to put yourself in the shoes of your target group. It can also be helpful to run some tests and compare stats to find the best time and day of the week to send your newsletter.
Once you have found your preferred time, stick to it as much as possible. Reading your newsletter can then turn into a habit for your subscriber.
Extra tip: If you send out a B2B newsletter during office hours, your click-through rate will likely increase, as click rates tend to be higher on desktop devices. B2C contacts, on the other hand, often read their private emails in the late afternoon or on weekends (mornings), so these are good times to send. If you send your newsletter internationally, also take the time zone of the recipient into account.

Our top 10 Most Important Tips for Successful Newsletter Marketing
Most companies already send out a newsletter, but many don't reach their fullest potential. Here at Scope have put together the 10 most important tips for state-of-the-art newsletters:
Creating added value

: Newsletters that inspire readers, give tips and impart knowledge are read with pleasure and get recommended to others. Design your newsletter in a way that provides your readers with added value.





Relevance

: Never send pure product advertising. Share industry know-how and convey your competence.





Clustering

: Group your newsletter recipients (e.g. by to B2C/B2B customers, industry, language, country, place of residence, etc.) to create target-specific newsletters that appeals to your readers on a personal level. Starting a few sub-groups should already suffice to get your readers engaged.





Responsiveness

: The percentage of readers who open newsletters from their mobile device is currently around 40-50% (depending on the target group and dispatch time), so it makes sense to create a mobile-optimized newsletter design that looks good on the go.





Captivating subject line

: The choice of subject line is

the

deciding factor for the open rate. Action-oriented and engaging verbs convey urgency and spark emotions. You can even personalize the subject line (to include, for example, a name, company or place of residence) – but don't overdo it, as the effect wears off. You can also try using emoticons. You should aim for about 40-60 characters in the subject line; any extra details should be included in the email preheader. Check out our blog article to learn more.





From me to you

: Communicate with your subscribers in a personal way. The editorial should include a real person with a photo and a name. This can be your CEO, a department head or a specialist on the subject. You can also rotate editors. Always make sure to communicate authentically and openly.





Personalization

: Newsletters should contain a personalized greeting at the very least. Further personalizations can potentially be incorporated in the editorial or in the main text.





Consistency

: Stick to your predetermined dispatch time and date. This helps readers build a habit of reading your newsletter.





Curate content

: Find additional information on your topic from special interest and daily media and recommend relevant articles to your readers. This demonstrates the relevance and topicality of your subject in an objective, external way.





Conversion and analytics

: Highlight the links to your website and place calls to action compellingly. Offer more information on landing pages that require registration, converting your readers into leads. Evaluate your analytics after each newsletter dispatch to gain feedback for your next newsletter.
---
Newsletter Marketing Agencies versus Self-Produced Newsletters
A lot of companies produce their newsletter themselves because they have the know-how and can avoid interacting with an agency. The Scope Content Suite however enables users to create their newsletters much more efficiently and enrich them with curated content.
After a short setup, you can use Scope independently, taking your newsletter to the next level and becoming massively more efficient.
Alternatively, you can commission us to create your newsletter. Our expert journalists use our Scope software to curate current, relevant articles in four languages ​​(German, English, French and Italian) and design beautiful newsletters – and we do it more cost-efficiently than any content marketing company because of our enhanced software productivity.
Interested? Contact us for a free demo. We would be happy to discuss your individual requirements or create a pilot issue of your newsletter together.
Upgrading Your Newsletter

The Scope Content Suite takes your newsletter marketing to the next level. In no time you'll be putting together breathtaking newsletters more efficiently and effectively than ever before. With Scope you can:
Find relevant articles to curate from our comprehensive database

Combine current news from around the web with your own content

Assemble an entire newsletter at the click of a button and arrange articles using drag and drop or tagging

Display individual articles or entire newsletters on your website or social media

Send your newsletter to customers and leads with Scope's seamless integration into your existing email client
With our help you can determine topics, search terms and relevant sources such as blogs, social media channels or news feeds to boost your newsletter. By connecting all the major search engine providers, our software continuously searches millions of sources, providing you with the latest articles to appeal to your target groups.
All you have to do is select your favorite articles from the search hits, write a brief comment about why your text is worth reading, or provide some context or additional information.
Then, assemble your newsletter with ease using our editing software. Move articles with drag-and-drop, combining curated content with information of your own. Writing an editorial has never been easier with our state-of-the-art software, which always has all of the keywords and comments from your selected articles at hand to inspire you.
No matter which communication channels you use, whether web, social media, email, blog or RSS: Scope consistently white labels and integrates itself into your corporate design.